Sarah Cooper
Founder & Curator 
Sarah Cooper is a Fortean fanatic and amateur folklore historian.  She is the founder of The American Snallygaster Museum and writes about paranormal and urban legend adventures for Maryland Road Trips Magazine. She is the cohost of Manic Pixie Dream Ghouls, a comedy podcast on all things high strangeness.  
Her favorite mysteries include men in black, missing 411, and time slips.
She will be speaking at Jersey Devil Fable Fest on the folklore and mythology connections between the snallygaster and the Jersey devil.  PLEASE REGISTER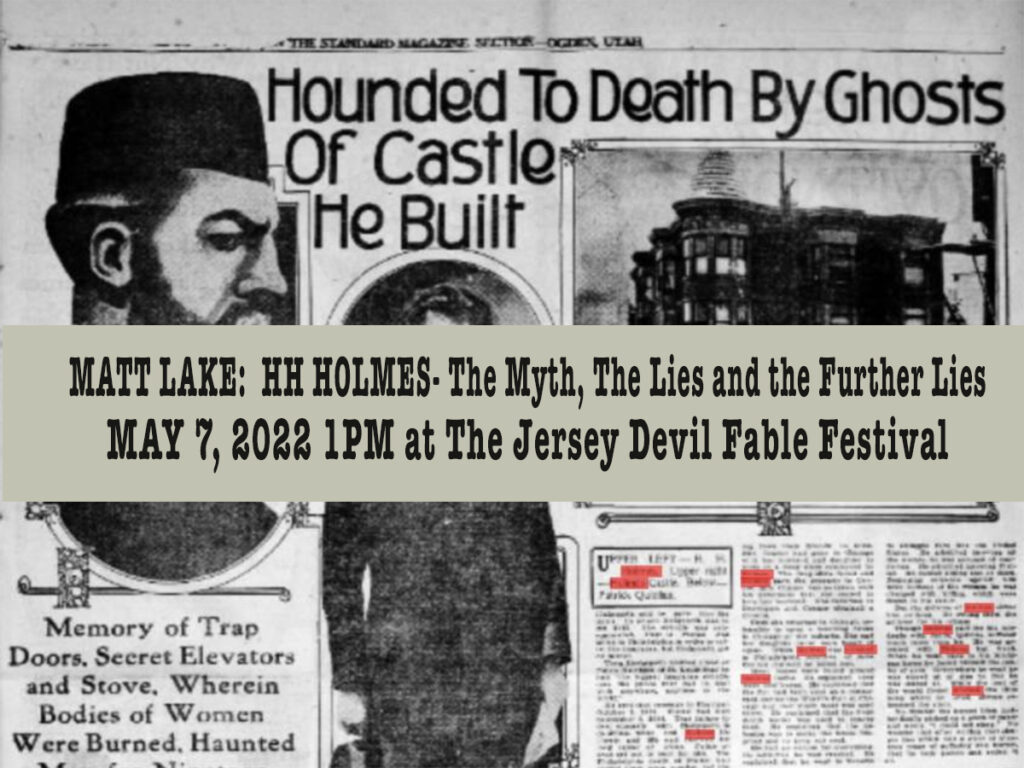 AMERICA'S FIRST SERIAL KILLER? HE DIED ON MAY 7, 1896 in PHiladelphia, PA  OR DID HE?  BOTH MISERY AND MYSTERY SURROUND THE HH HOLMES.  CONVICTED OF BUT ONE MURDER, HE IS SUSPECTED IN DOZENS MORE AND HAS INSPIRED NIGHTMARES OF HAUNTED HOTELS AND MURDER HOUSES THROUGHOUT FILM AND FICTION.  HE HAS EVEN BEEN THOUGHT TO BE JACK THE RIPPER.  HOW CAN ONE MAN HAVE DONE SO MUCH?
MATT LAKE GETS TO THE BOTTOM OF THE MYTH, THE LIES, AND THE FURTHER LIES IN HIS LECTURE AT 1 PM. ON THE ANNIVERSARY OF HIS EXECUTION.  ATTENDANCE IS FREE- You MUST Register
What are people seeing when they look in the lakes, forests and skies?  Is there any record of such things in our collective history?  What does the fossil record say about such creatures?  New Jersey Native Dr. Dana Ehret has some thoughts!
"To Be  Clear! My interest in Cryptozoology is of an academic, historic and pop culture nature. I grew up in central New Jersey hearing stories of the Jersey Devil and borrowing Roy Mackal's 'The Monsters of Loch Ness' book from my elementary school library. My background in ecology, zoology and paleontology and my penchant for the strange and unusual has aided me in teaching people about the myths behind some cryptids and the science behind why most could not exist. "
Please Register!
In more than 35 years of study and research, Kathy Kelly has come upon some weird, wild, and truly unnerving experiences. From a nosey ghost in Prague to a resident spirit in The Paranormal Museum, her day-to-day life is filled with the paranormal.  An energetic and enthralling storyteller Kathy will keep you entertained with some special experiences in her paranormal life.
Please Register!

Adam Berry- from Ghost Hunters and now Kindred Spirits Adam needs no introduction.  An avid investigator and collector, Adam lives a "Haunted Life".  Join us in the Town Square on May 7 ast 4pm to meet, greet and hear the latest from this Paranormal Icon! Please register for space!