Antietam, September 17, 1862
No darker day has ever dawned on that ground than that damp and foggy morning. The Battle of Antietam, named after a creek in the town of Sharpsburg Maryland would last for one full day and would leave its mark on the United States as the single bloodiest in its history to date, Before the sun would rise again 23,000 casualties would be claimed and 1 in 4 of the men who fought on that day would die.
The Civil War was an enormous clash that tore the country in two. More than that, it pulled from life an entire generation of young men and it altered forever the relationship this country had with death.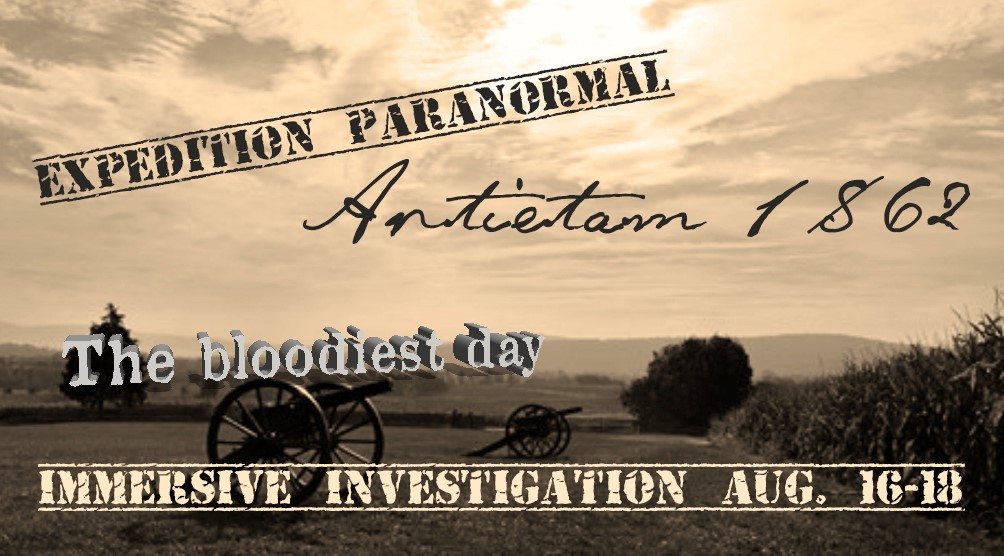 The fields of its battles are hallowed by the blood of the men and women who sacrificed all for their cause. Its echoes are still heard today in our own lives. But beyond its impact on us, something else lingers. The very essence of the battle itself and the spirits who stepped into eternity on its fields.
Join us for a fully immersive investigation on August 16-18 , 2019. We have secured an active historic witness 26-acre farm in the town of Frederick Maryland, a few miles from the Battlefield Park but also active due to its own history of skirmishes and it's part in the embalming industry that was focused here. We will tour the sites, investigate the locations with activity and live within the walls of active history.
2 Night Lodging & Transportation from Paranormal Books & Curiosities in Asbury Park
$500 per person Double Occupancy/$600 Single Occupancy
There will be only 8 tickers sold to the public for this event so please get them ASAP if you want to attend.
There will be a lecture on the Battle of Antietam and the reported spirit activity at The Salon in August and you are welcome to attend.
Join us for Paranormal Expedition – Antietam